Smug
Aug 14, 2019 20:10:28 GMT
Post by naughtyfox on Aug 14, 2019 20:10:28 GMT
I've got this one under Religion, as that's just what Climate Change is.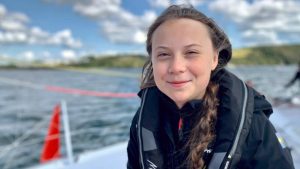 What a smug face. Her parents should be fined for her skipping school - apparently she goes 'on strike' every Friday. How convenient for long weekends.
Yes, it's St Greta of Thunberg, here to save us all from ourselves. This 16 year old knows what's best.
"Beyond satire. A spoon faced halfwit saving the world by a pointless and entirely hypocritical and impractical journey in a multi million £ boat."
"Precocious brat. Her dad should put her across his knee and give her a good spanking. I bet she was insufferable even when she was a toddler."
"The precocious sixteen year old eco warrior is sailing the Atlantic to join environmental protesters in New York, and to take part in a summit at the useless talking shop that is the United Nations."
"The trip is being made on a sixty foot yacht, and naturally it's claimed that it will be 'zero carbon'. "
"Now maybe I'm cynical, maybe I'm just plain wrong, but I get the impression that young Greta is destined to go through life without ever having a proper job. I see her buzzing hither and thither, her life a whirl of conferences, media appearances, and carefully staged protests with virtue-signalling, gobshite celebrities there to get their pictures taken. No doubt too there'll finger-wagging articles for the likes of The Grauniad, lecturing the rest of us on the damage that we're all doing to Mother Earth. At some point there'll be a ghosted biography ('My Struggle', now there's a catchy title), and Hollywood will come calling ('based on true events'). She'll become famous for being famous, and if she plays her cards right, she'll be on a nice little earner in the process.
All hail St Greta, a right sanctimonious little know-all, if ever there was one."
"If they should get into any kind of trouble, they'll decline any search and rescue attempts by non 'carbon zero' aircraft and ships?!"
"Not possible to manufacture a yacht without carbon emissions or the use of noxious chemicals. Also not possible to get such a craft from the factory to the water without a dirty diesel truck."
"You've hit the nail on the head - all eco warriors claim that they're antics are zero carbon, but unless they walk everywhere, completely starkers, drink water from a stream and eat food that they've foraged, there is guaranteed to be some carbon creation somewhere along the line. Another case of stop burning fossil fuels, unless I need them to make myself the centre of attention and then it doesn't count."
"Silly little bitch, needs to get a paper round and get her lazy arse into school."
"Don't forget to take your environmentally friendly sat–phone Greta."
"I suppose St. Greta's forthcoming adventure crossing the Atlantic in a $4m yacht made of carbon fibre and plastic, that's owned and crewed by a member of the Monaco royal family, does not sound at all ironic or elitist.
Maybe I've missed something, but I would have expected it to be in a longboat crewed by Vikings.
As a child with 'Apserger's', she's easily being manipulated beyond the point of obvious farce by a third party agenda."
"Greta Thunderbirds gives me the Heebie jeebies, the little weirdo."
"There's just no real entertainment value though is there? All you get is Greta managing a cross-eyed stare at the imaginary window she was licking yesterday."
"I heard that St Greta's yacht has been fitted with a diesel engine "only for emergencies". Make of that what you will…."